Zeiss Meditec
CREATING A DIGITAL SERVICE EXTENSION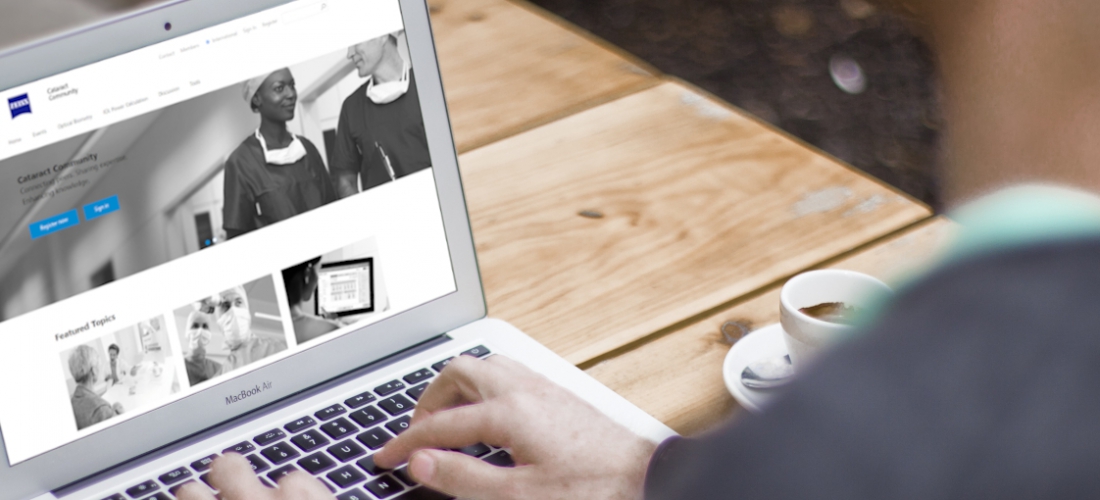 SUMMARY
Carl Zeiss Meditec is the market leader in optical biometry. Optical biometry is a highly complex field that is comprehensible by experts only and constantly evolving driven by science and manufacturers innovation. Yet surgeons know that it is highly critical to the success of cataract/ cataract-refractive surgery. Knowing from customer feedback that service makes a difference when it comes to investment decisions within practices, the Cataract Community was conceptualized as a one-stop solution for all questions with respect to biometry.
PERIOD: 2014–2017
GOAL
Build and maintain a community that serves as one-stop shop for professionals in the area of cataracts.
Continuously optimize the community with respect to content integration and customer experience optimization.
Integrate tools and services to deliver on key benefit: a"one-stop solution" to support users in their daily workflow overall, saving their time, improving outcome through shared expertise and enhanced knowledge, increasing efficiency and practice throughput.
CHALLENGE
Continuously integrating services previously launched as silos into the cataract community delivering on the promise of a "one-stop solution"
Creating editorial plans together with the product teams to continuously provide new and interesting content based on customer behavior and interests
Transforming internal thinking from a product driven company to a service driven company
SOLUTION
TD Reply implemented a modular open innovation platform based on LifeRay. The intention was to provide a wealth of content together with the possibility to ask questions, exchange with colleagues and provide access to experts. Content and page structure are continuously monitored to provide insight on how to improve customer experience and deliver content that meets customers' interests and needs. Community management connected to specialists within Carl Zeiss Meditec guarantees fast reactions to user questions.